Fulcro Explained: When UI Components and Data Entities Diverge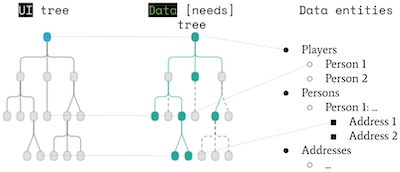 Fulcro's stateful components serve normally both as elements of the UI and to define the data model, i.e. data entities with their unique IDs and attributes. And that is what you want 95% of the time. But what if your UI and data model needs diverge?
We will take a look at what different kinds of divergence between the UI and data entities you might encounter and how to solve them.
Adapting backend data to the UI components' structure
Often the UI needs the data structured more or differently than they inherently are. We have multiple tools to do that to adapt them to the UI needs:
When load!-ing data, use targeting to change where it is placed or to add any number of extra "edges" to it (using append, prepend, replace)

Use :initial-state to establish edges between components. For example if we decide to relocate :tags from the Root to the child Menu component then we also need to make a connection between Root and the Menu component so that Fulcro will be able to find the data when fulfilling the query. Something like:

(defsc Menu [_ {:keys [tags]}]
  {:ident (fn [] [:component/id :Menu])
   :query [:tags]
   :initial-state {}})         ; (1)

(defsc Root [_ {:keys [menu]}] ; (2)
  {:query [{:menu (get-query Menu)}] ; (2)
   :initial-state {:menu {}}}  ; (2)
  (ui-menu menu))

;; Client DB will be (after data has been loaded):
{:component/id {:Menu {:tags [..]}}
 :menu [:component/id :Menu]}  ; (3)

| | |
| --- | --- |
| 1 | The child component must have a non-nil initial state |
| 2 | The parent component can pick whatever name it wants for the child's data (here :menu) as long it initializes it in its :initial-state (remember we use its template form here so it is the same as :menu (get-initial-state Menu)) |
| 3 | Thanks to the initial state, we get this link from the parent (here Root) to the child and Fulcro will be able to fulfill the query. Notice this edge is arbitrary, using a made-up name (:menu), it does not correspond to anything in the backend data. (It took me a while to figure out that I can add such arbitrary edges.) |

Use a custom mutation (perhaps triggered via load!'s :post-mutation parameter) to re-shape the client DB in any way you want

Use Pathom placeholders (:>/any-arbitrary-keyword) as discussed above to add an extra level of structure to the backend data. (Obviously this only works if you actually load the data from Pathom - if you simulate them locally via initial-state or merge! then you need to add the structure into the data yourself.)
---